| | |
| --- | --- |
| | |
Ministry & Worship

Upcoming and Archived Sermons.

Sermons scheduled for the next few weeks are listed below under Upcoming Sermons . Audio of many past sermons are listed below under Sermon Archive. They are offered at our church by our interim minister, Reverend Len De Roche, and guests who have been invited to address the congregation. To listen to an audio recording select the word "audio" in the parentheses. Each sermon is accessible for those using a DSL or faster connection.

---
Upcoming Sermons
May 19, 2013
"Membership and Responsibility."
Rev. Len De Roche
Sermon Archive - 2012 and 2013
May 12, 2013 "I Remember Mama" - Rev. Len takes a nostalgic look at a 50's TV program
based on a novel called Mama's Bank Account by Kathryn Forbes.
( Audio )
April 28, 2013 " There Be Dragons Here" - Rev. Len De Roche has always
been fascinated with maps. Early maps marked unknown
areas with the statem " There be dragons here."
Rev. Len showed that the mind is like that too.
( Audio )
Benediction ( Audio )
April 21, 2013 "WWJD - What Would Jesus Drive?" - On the day before Earth Day
Rev. Len De Roche asks this perplexing question.
( Audio )
Meditation: A meditation/prayer on Boston
( Audio )
April 14, 2013 "View from an Immigration Attotney"
Michael Marszalkowski
( Audio part 1 )
( Audio part 2 )
April 7, 2013 "Being Fed Spiritually" , Rev. Len De Roche
( Audio )
March 31, 2013 Easter Sunday, Rev. Len De Roche
( Audio )
March 24, 2013 "UU've Been Framed"
Jerry Kent ( Audio Part 1 )
( Audio Part 2 )
March 17, 2013 "Celtic Spirituality"
Sermon by Rev. Len De Roche and read by Jerry Kent
( Audio )
March 3, 2013 "Sermon on the Amount", Rev. Len De Roche
( Audio )
February 24, 2013 "Our Refugees In Buffalo" , Dr. Anna Ireland
( Audio part 1 )
( Audio Part 2 )
February 10, 2013 "Everything Possible - Ruminations on Valentine's Day and Love"
Rev. Len De Roche
( Audio )
February 17, 2013 "The Lincoln-Unitarian Connection" Rev. Len De Roche
( Audio )
January 13, 2013 "The Maelstrom" Rev. Len De Roche
( Audio Part 1 )
( Audio Part 2 )
December 16 "The Unitarians Who Saved Christmas" Rev. Len De Roche
( Audio )
December 9 "The Green Man and Christmas" Rev. Len De Roche
( Audio )
December 2 "The Condom Controversy" Rev. John Rex

( Audio part 1 )
( Audio part 2 )
November 25 "Deeds, Creeds, and Principles" Rev. Len DeRoche
reflects on the difference between deeds, creeds, and
principles theologically and politically, and discusses the
relationship with the occupy and tea party movements.
( Audio part 1 )
( Audio part 2 )
(Audio part 3 )
November 11 "We Remember Armistice Day" Rev. Len DeRoche
reflects on "War to End All Wars" and the origins of
Veteran's Day. ( Audio part 1 )
( Audio part 2 )
( Audio part 3 )
November 4 "Best Politicians Money Can Buy" Rev. Len DeRoche
discusses how money corrodes our democracy.
( Audio part 1 )
( Audio part 2 )
( Audio part 3 )
October 21 "Beloved Community" Sunday, Rev. Len De Roche,
discussed why the work of the a Right Relations Committee
is important to the development of a healthy and blessed community.
( Audio )
October 7 "Living with Labs" After the blessing of the many happy animals
welcomed in todays service, Rev. Len De Roche addressed the
question "What do dogs and animals have to do with religion?".
( Audio )
September 30 " The Myth of Sisyphus." Rev. Len De Roche spoke of this Greek myth and
explored its relevance to individual and community life.
( Audio )
September 23 "Does Religion Matter?" With churches and synagogues losing
relevance to most family life, Rev. Len De Roche addresses
the question whether religion matters.
September 16 "Interim Period." Today Rev. Len De Roche will explain the
difference between Interim Ministry and Settled
Ministry and what he's learned about us so far.
( Audio )
September 9 This Sunday we welcomed back the Bar-Room Buzzards, a much loved
and well-known Buffalo Dixieland and blues band, who led the music for
the service. There was no sermon but Barbara Kent and Rick More shared
a few reflections and thoughts.
Barbara Kent ( Audio )
Rick More ( Audio )
September 2 "Ingathering of the Waters" During this service, which included the annual
water sharing ceremony, Kim Diana Connolly reminded us that water is a
human right, and that many millions of people in the US and countless
others throughout the world live without access to safe, affordable, and
adequate water for their basic human needs.
( Audio )
August 19 "Unitarian Universalism and Me." Our minister, Rev. Dr. Len De Roche
introduces himself to the congregation by telling us about
his journey through U.U. congregations."
( Audio )
---
The sermons listed below are primarily those of Reverend Tim Ashton who served our
congregation until July 2012.
---
June 24 "The Valedictory Sermon"
Sunday Rev.Tim Ashton delivered his valedictorian (farewell) address.
The audio file is large and is presented in two parts.
( Audio Part 1 )
( Audio Part 2 )
June 17 "Father's Day and Flower Communion"
Rev. Tim Ashton led a celebration of two martyrs and "fathers of our church,"
Michael Servetus and Norbert Capek. Czech Unitarian minister Capek
created the UU tradition of Flower Communion which was celebrated today.
( Audio )
June 3 "Unitarian Universalism and the Civil Rights Movement."
Sermon: "Unitarian Universalism and the Civil Rights Movement."
Rev. Tim Ashton explores our UU involvement in the Civil
Rights Movement and the following conflict among us.
( Audio )
May 27 "Memorial Day "
Sermon: "A Time to Remember." Rev. Tim Ashton discusses the history
and implications of Memorial Day.
( Audio )
May 20 "New Member Sunday"
Sermon: "New Member Sunday." On this day we celebrate everyone who became a member
since last spring! In his sermon, Rev. Tim Ashton places Unitarian
Universalism into the larger tradition of member operated organizations which
dates back to ancient Greece. What is the significance and value of membership?
( Audio )
May 13 "Mother's day"
Sermon: Looking beyond the ubiquitous candy and flowers, Rev. Tim Ashton honors
our foremothers and uncovers what was originally at the heart of this holiday.
( Audio )
April 22 "Earth Day"
Sermon: "Faith and the Earth." The protection of the Earth for future generations is an
echo of the directive: "Love your neighbor as yourself."
This morning we are asked to think about how different faith traditions strive
to preserve the earth for their future neighbors.
Robert Ciesielski, chairman of the Sierra Club (Niagara group). ( Audio )
Responses to a few questions:
Robert Ciesielski, chairman of the Sierra Club (Niagara group). (
Audio
)
April 15 "Holy Curiosity"
Sermon : "Holy Curiosity" In the absence of a unifying creed,
what connects us in our religious community?
Intern Minister, Linda Thomson reflects on how Holy Curiosity can help
form people with disparate beliefs into a congregation. ( Audio )
April 8 Easter
Sermon: Easter - The Guarantee
Rev. Tim Ashton ( Audio )
April 1 "Humor and Religion"
Sermon: "Humor and Religion" Rev. Tim Ashton will explore whether and where there
may be room for humor in religious beliefs. ( Audio )
March 25 - "Love Surrounds Us"
Sermon: Rev. Tim Ashton ponders how love is at the center of our U.U. community
and welcomes our K-1 R.E. class as they share lessons from their curriculum
"Love Surrounds Us."
Rev. Tim Ashton ( Audio )
March 18 - "The work of VIVE"
Sermon: "Vive, a temporary refuge for those yearning to be free."
Angela Jordan Mosley, Ececutive Director of VIVE ( Audio )
March 11 - "Running in the Rain" Rev. Tim Ashton discusses the life philosophy set forth in Garth Stein's Novel The Art of Racing in the Rain.
Sermon: "Racing in the Rain"
Rev Tim Ashton ( Audio )
March 4 - "Religion: Action or Contemplation"
Sermon: This week Rev. Tim Ashton explores how and why UU's become socially and politically engaged.
Rev. Tim Ashton ( Audio )
February 26 - "Is Spirituality Rational?"
Explore the relationship of the spiritual and the rational as our 2nd&3rd grade Religious Ed class will share with us what they are learning about our 3rd U. U. principle ("Acceptance of one another and encouragement to spiritual growth in our congregations").
Sermon: "Is Spirituality Rational"? Rev. Tim Ashton ( Audio )
February 19 - "Education for Action"
Changing minds changes the world. Our groundbreaking church school curriculum " About Your Sexuality" (1970) brought sexuality education into our churchs with open talk about sex and the range of human diversity. Sexuality education and liberation remains at the cutting edge of world change.
Sermon: "Education for Action" Rev. Tim Ashton ( Audio )
January 15 - "Martin Luther King Sunday"
Greg Galluzzo, the executive director of the GAMALIEL FOUNDATION, was the speaker. Rev. Tim Ashotn led the service. The Gamaliel organization, based in Chicago, is the growing center of a community-transforming network of grassroots organizations. By teaching everyday people how to organize themselves into effective groups, Gamaliel community organizers help ordinary citizens discover their own power and gain the ability to change what needs changing in their own back yards and far beyond. (Barak Obama was trained in Gamaliel organizing principles in Chicago.)
Sermon: "Martin Luther King - Free at Last"
"......he drew us out of ouselves and caused us to have hope, to believe and to act! "
- Greg Galluzzo ( Audio )
January 8 - "Purpose Versus Perfection"
Do you read the weekly UU advice column in the Buffalo News? You didn't know that an important UU "preacher" gets a three column, seven inch spot each week? Yes, that person is Lisa Earle McLeod, fellow UU from Georgia, lecturer, coach, and consultant. One week she noted it is important not to confuse purpose with perfection. Advice, focus on what really matters to you.
Rev. Tim Ashton ( Audio )
2011
Dec 11 - "Kwanzaa and the Ethical Life"
Kwanzaa, the African holiday created here in the United States in the mid-twentieth century, is becoming a favorite winter holiday for Unitarian Universalists because it involves no miracles, no divine revelation, and is centered ethical living and community building. Question for the morning: without a divinely sanctioned law, what grounds Unitarian Universalist morals and ethics?
Rev. Tim Ashton ( Audio )
Dec 4 - "What's Left of the Winter Holiday's for Me?"
After I put aside rampant commercialism, with the miracles behind me, the Virgin Birth and an inexhaustible can of oil no longer grasping my imagination, understanding that no one has the slightest idea when Jesus was actually born, and coping with the intolerance of the Maccabean kings, what's a person to do when the special holidays come up on the calendar?
Rev. Tim Ashton ( Audio )
November 27th - "Let MY People Go"
Seminarian (minister-in-training) Michelle George invites us to consider dilemmas of choosing between what benefits us vs. what benefits others. She'll offer biblical and historical examples and asks how these examples speak to us now and the UU call to social justice? And who are YOUR people, really?
Michelle George ( Audio )
November 13th - Star Wars: A Philosophy of Good and Evil
This fantasy auction sermon explores the "theology" of Star Wars. If you never went beyond the first Star Wars, now numbered as IV since three pre- quels were added, you may think of the series as simplistic, black- and-white, good-guys/bad-guys approach to the question of evil. Star Wars V and VI offers a complex universalism of moral intent, well suited to the liberal"s vision.
Rev. Tim Ashton ( Audio )
November 6th - "Peace of the Action"
Peace activists, Cindy Sheehan of "Cindy Sheehan's Soapbox" and Brian Wilson, author of "Blood on the Tracks: The Life and Times of Brian S. Wilson" were in our pulpit today. Cindy Sheehan became an anti-war activist upon the death of her son in Iraq. After Bush's refusal to meet with her a second time, she occupied the entrance to his ranch in Texas. Brian's journey is also breathtaking. He was run over and nearly killed by a munitions train while engaging in a nonviolent blockade in protest of weapons shipments to El Salvador. Their talks expressed their concerns for the future of our world community.
Cindy Sheehan ( Audio )
Brian Wilson ( Audio )
October 16th - Jack Kevorkian and Karen Armstrong
World religions expert, Karen Armstrong, identifies compassion as the core value shared among the religions of the world. Though reviled by many religious leaders, does assisted suicide offer compassion in dying?
Rev. Tim Ashton ( Audio )
October 9th - "Clapping in Church"
Actor Kevin Spacey commented during a Bob Edwards interview: "Oddly applause isn't my favorite sound. Silence is - to have 1000 people on the edge of their seats, like we have at the Old Vic, tells you more, that they're totally engaged in what's going on." Once I heard this wonderful quote, it seemed like it was time to tell you the truth: what does the minister really think about clapping?
Rev. Tim Ashton (Audio)
September 25th - "Are Gay Rights and Abortion Rights Different?"
In an op-ed piece by Tom Keane called "Game Over: Gay marriage will eventually be the law of the land." He commented that abortion still makes people "uncomfortable." "While the argued harm of abortion is ending a potential life, it's hard to see what damage" same-sex marriage could cause. How has the moral ground shifted? Is choice still the center of the argument? Does abortion also need to come out of the closet?
Rev. Tim Ashton (Audio)
September 18 - "God and Faith at the Unitarian Church"
The old joke used to be this: you only heard god mentioned at the Unitarian church when the custodian dropped his hammer on his foot. What does that stereotype  mean? Does it still apply? Perhaps god is not something that you believe in. Maybe the word god is a descriptor of a sensitivity or understanding about the nature of the world or universe. Clearly a UU church is home to atheists, agnostics, and theists. What do we share in common? Faith?
Rev. Tim Ashton (Audio)
July 24 - "Non-Violence"
Careful attention is required by wise minds searching for ways that non-violence can be applied to our dangerous world.
Peter Diachun ( Audio )
June 26 - "The Social Network"
Flower Communion - Every flower has a beauty that stands on its own, but there is also the beautiful bouquet. We are connected in a social network of instant communication, but we live in a society which is insensitive to the needs of the less fortunate. How are we to rearrange this brave new bouquet?
Scott Harrigan (Audio)

June 19 - "Father's Day"
A Father's day message. Rev. Tim Ashton (Audio)
May 29 - Memorial Day - "American Exceptionalism Revisited: Looking Beyond The Limits of Power"
Memorial Day began as an effort to heal the wounds of hatred between the North and the South after the unexpectedly brutal and barbaric Civil War. Considering the budget battles in Congress, we seem to need a new Memorial Day to heal the current disastrous wounds in our political life. Here is something to contemplate: is the exemplar of popular American exceptionalism Jesus or Moses? The image may make all the difference and offer understanding.
As has become a tradition, we will stop to remember our war dead and recognize those who serve or have served in our military. We will also remember and recognize those who have stood against war and bloodshed.
Rev. Tim Ashton ( Audio )
May 22 - "Stewards of the Earth"
This fantasy auction sermon will explore:
The concept of "Stewards of the Earth"

Who made us (humans) the stewards?

How is it decided who are the the "top" stewards that control the others?
Rev. Tim Ashton ( Audio )
May 8 - Mother's Day - "The Assault Continues"
I was tempted to call this sermon "Get Back in Your Burqa: the Attack on Planned Parenthood Is Obviously Not About Cutting Costs." I'm developing an appreciation for the frustration of feminists my age and older. Like racism, sexism is not over. Cultures change slowly. It always comes down to birth control and abortion; access is freedom. In my worst mood, I see it this way: if you can't turn back the clock on everyone, at least poor women can be financially enslaved, but that is only the first step. The best gift on Mothers Day is equality. Rev. Tim Ashton (Audio)
April 24 - "An Easter Message" Rev. Tim Ashton ( Audio )
April 3 - Eat, Pray, Love Maybe religion isn't complicated. Rev. Tim Ashton ( Audio)
March 27 - "The Cadre of Caring and the Parish Nurse"
This Fantasy Auction sermon is a conversation about how we care for one another in our congregation. Given our size and diversity, it is time to be more organized about providing help to our community when we are in need, crisis, or lonely. It is time for a plan and a system of communication.
Rev. Tim Ashton ( Audio )
March 13th - "Do You Get Happy at Your Church"
I remember trying to explain Unitarian Universalism to my Black Baptist neighbor in our largely African-American neighborhood. Finally she asked, I think in some frustration with my intellectual talk, "Do you get happy at your church?" That question had not occurred to me; I was completely flummoxed. So what are we doing on Sunday morning in our Chapel?
Rev. Tim Ashton ( Audio )
February 27th - "Remorse"
Here is the Fantasy Auction sermon question: We (Unitarian Universalists) pride ourselves on being a visionary and guilt free religion, but adherents to guilt based religions compare Unitarian Universalism to driving with no rear view mirror so we don't have to see the bodies of the people we have run over. Do we lose our sense of remorse when we abandon guilt?
Rev. Tim Ashton ( Audio )
February 13th - "Valentine Sunday"
"What Is Love and Where Does It Begin?" – Self-love, loving others, knowing yourself and what you need? Sabina Ramsey ponders this: If love begins with self-love, can love include self-sacrifice? Sabina's Fantasy Auction sermon question: How do these ideas square with Unitarian Universalism?
Rev. Tim Ashton ( Audio )

January 30th - "God at the Unitarian Universalist Church"
Rev. Tim Ashton ( Audio )
January 23 - "Anger Management"
It is so easy to focus on "Tea Party" madness, but road rage was here first. Do you get worried about yourself when you have an angry day? How do we learn to keep our tempers?
Rev. Tim Ashton ( Audio )
January 16th - "The Specter of Difference"
Folks get mean when times get bad; terrorists threaten, screening devices search to exclude. Martin Luther King preached the universality of the human condition. How do we hold onto his message?
Rev. Tim Ashton ( Audio )
January 9th - "The Good Soldier"
I have been challenged with a very provocative sermon topic for this Fantasy Auction sermon. Do Americans blame our wars on our soldiers? Is this in part why it is so hard for them to reintegrate when they come home? Anshin, the Buddhist monk who recently visited with us, said that violence is the product of all the people of a society, not the soldiers. They are just one manifestation. How do we deal with war and properly recognize the work of soldiers?
Rev. Tim Ashton ( Audio )
2010
January 10, "Worship!" Why Do We Use that Word?
Such a word in our times may bring to mind the image of "bowing and scraping, offering sacrifices to an idol, or the effort to cajole the gods to gain favor or exemption from bad fate or punishment. – Rev Tim Ashton (audio)

January 17, Martin Luther King, Jr. Sunday
The great leader of the civil rights movement forced the transformation our society. Yet many puzzle how Thomas Jefferson could have kept slaves. At the same time there is nostalgia for a past that seemed so much more civilized and well ordered, yet a past so firmly founded on racial inequality. – Rev Tim Ashton (audio)


January 24, Is Love More Than an Idea?
Chris Barry for his Fantasy Auction sermon requested a reflection on this idea: Some believe that love is a power, perhaps the power which holds the Universe together. Is love the concrete attraction of the elements of a molecule? – Rev Tim Ashton (audio)


January 31, Conversation and the Art of Relationship
In conversation people gradually and gently enter into each other's lives. A relationship grows; and, this is the "dangerous" part, we become gradually responsible for each other. Conversation may be a defining element of a church community and humanness. – Rev Tim Ashton (audio)
February 14, First Love
– Rev. Tim Ashton (audio)
February 21, Just Because You Can...
Just because you can accomplish something, should you? – Rev. Tim Ashton (audio)
March 7, The Fall of the Evangelical Nation
In her book of the same name, author Christine Wicker documents the continuing decline of the evangelical churches. It's probably hard for you to believe this. Did you think it would come so soon? – Rev. Tim Ashton (audio)

March 14, Life Is Not Fair
The kids are learning that life is not fair, but in the end, things will work out if you just give it time. Perseverance is more effective than evil actions and thoughts. In the midst of the Great Recession, I hear a lot of adults pondering these same ideas. – Rev. Tim Ashton (audio)

March 21, VIVE Buffalo
The Rev. John Long from the board of directors at VIVE will be at our pulpit to share with us the work that VIVE has been involved with throughout the years. Our youth groups have been active with them as well as some of our congregantion. They have recently welcomed 25 orphans from Haiti and will be opening a dormitory for them. – Rev. John Long (audio)

March 28, Jesus, Who Was He?
Here's the question that Marie Evans passed from a letter she received: "The figure and teachings of Jesus are too often broken down, adapted, and then shaped to fit people's own particular needs and desires. Who was the real, walking, talking, preaching Jesus, and what lessons can we take from him today?" – Rev. Tim Ashton (audio)

April 4, Easter: the Reminder of Continuity
Is it an illusion that we die? We see the flowers in the garden. Year after year they are there. They disappear and reappear and seem the same. It this why flowers and animals are so comforting? Why don't we feel the continuity? – Rev. Tim Ashton (audio)
April 11, What Do Unitarian Universalist Ceremonies, Rituals, or Sacraments Mean?
Victoria and Will Crago are bringing the twins to be dedicated. Of course, the questions arise. Why do we do these rituals? What difference do they make? If we follow the question far enough along, we must finally ask, Why do we come to church? – Rev. Tim Ashton (audio)
April 18, The Wisdom Tradition
T.S. Eliot said, "Where is the knowledge that is lost in information? Where is the wisdom that is lost in knowledge?" Once it was religious philosophy that was supposed to disclose the ultimate nature of reality. Science bulldozed those fragile structures. What's left? Perhaps something much more useful; the accumulated wisdom of how life should be lived. – Rev. Tim Ashton (audio)
May 9, Mothers Day – We Are Not Victims
Mothers Day in its original expressions was a liberation and reform movement. In the tradition of effective liberation movements, Mothers Day was centered on empowerment. Rev. Tim Ashton (audio)
October 31, 2010 - An Atheist Faces Death Rev. Tim Ashton (audio)
September, 2010 - Resilience Rev. Tim Ashton (audio)
September 19, 2010 - Founding Fathers Rev. Tim Ashton (audio)
=++++++++++++++++++++++++++++++++++++++
December 6, 2009; Kwanza
From a humanist's perspective, Kwanzaa comes close to being the perfect holiday. Kwanzaa is the preeminent example of creating religion for ourselves. Kwanzaa celebrates the ethical center of community life.
As Emerson said of the nineteenth century, "Our age is retrospective. It writes biographies, histories, and criticism. The foregoing generations beheld God and nature fact to face; we through their eyes. Why should not we also enjoy an original relation to the universe? Why should we grope among the dry bones of the past?" Looks like we have finally taken Emerson's advice. – Rev. Tim Ashton (audio)

November 11, 2009, Religion in the Electronic Age

Accessibility to information: has it changed our relationship with religion? Has it changed religion it self or our expectations? – Rev. Tim Ashton (audio)

October 18,2009, I Accept the Universe
Margaret Fuller was reported to have said these words. To which Thomas Carlyle retorted, "By God, She'd better!" My question is this: How do we make peace with the Universe? Atheist, agnostic, theist, existentialist, humanist. Such turns of fate befall us. How beautiful, inspiring, cold, detached, and crushing as it may be, each of us has to try to pick up the pieces and go on. Is that what religion is about? How do we "praise the mutilated world" in the words of poet Adam Zagajewski. What do we do when we are hurt and crushed? – Rev. Tim Ashton (audio sermon)

October 11, 2009 - War Does Not Work
Maybe the alternative to war isn't pacifism, but there is increasing evidence that forcing others to do things never really solves problems. The situations in Afghanistan and Iraq form perfect examples. Torture is another case in point. With such notable interest in market economies, why is Big Brother supposed to be so helpful in political matters? – Rev. Tim Ashton (audio sermon)
You can see UUCA activities listed in
our monthly events calendar.
May 31, 2009 - New Member Sunday
A special thanks to all the new members who have joined our congregation over the past year. And, a look at all the joy and responsibilities, that a committed connection can bring to those who engage with us.- Rev. Tim Ashton (audio sermon)

April 19 - Al Parker, Seneca historian, speaks on the meaning of Earth Day and the native culture of our area. (audio sermon)
April 12 - Easter, 'April is the Cruelest Month of All'
Poet T.S. Eliot stated in The Wasteland that there were three responses to life: attachment, detachment and disinterest. For Eliot the danger was disinterest, take it or leave it, life in a fog of self-sbsorption. To the disinterested the thunder of living rain was disturbing, unsettling. The living force requires a response. - Rev. Tim Ashton (audio sermon)
April 5 - Palm Sunday; Beware the Heroes' Welcome! The crowds sang hosanna and then they turned Jesus in. The story brings up perennial questions. should we say what we think? Why not go home when things get dicey? So I ask, What would a pragmatist do? Considering what would work well, the pragmatic approach, might have been a better way to manage. – Rev. Tim Ashton (audio sermon, written)
March 22 - Living Our Lives for Ourselves Karen Kuhn's question for her Fantasy Auction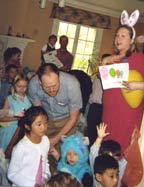 sermon is this: why are we doing what we are doing? Are we living our own lives or are we still trying to make our parents or someone else happy? It's time to take charge of our own lives and finally grow up. Perhaps that's what becoming a UU is all about. – Rev. Tim Ashton (audio sermon)
March 15 - Passover, the Pagan Equinox and the Celebration of Spring Measuring the flow of time may be the most elemental religious & communal activity of the conscious being. We are aware of our brevity. Each spring we celebrate the wonder of new life and rue the passing of time. How do we affirm life in the face of death? – Rev. Tim Ashton (audio sermon, written)
March 1 - An Unusual Teacher from Palestine Yes, I could say Jesus, but I won't. I want all of us to think outside of the box. As with our deist ancestors (for example, Thomas Jefferson), I am intrigued by the teachings of Jesus because of their moral truth and unusual perspective. Can we find a very unexpected Jesus who was nearly hidden from sight in just two generations after his death? This man may yet speak to our age. – Rev. Tim Ashton (audio sermon, written)

February 15 - Erotic Spirit It is usually called a pulpit exchange, but it makes a lot more sense to call it a minister exchange. Rev. Joel Miller, minister of the UU Church of Buffalo, will speak in Amherst, and Tim Ashton, our minister, will speak at the UU church downtown. Rev. Joel Miller (audio sermon, 2.57MB)

February 8 - Why Doesn't Anyone Talk About Children on Valentine's Day? Certainly children are often the result of love (even if they aren't one's biological off spring), and caring for children is surely one of the supreme monuments to the power and sacrifice that love calls forth in us. So for Valentine's day, I plan to address Shawn Whitecar's fantasy auction sermon topic and question, "How do we raise good UU children?" Aren't they among our greatest expressions of love? Rev. Tim Ashton (audio sermon, 2MB, written version)
January 25 - They Don't Have Any Crucifixes! - But we do have 'Joys & Sorrows.' Sharing the
stories of what hurts & demoralizes us is essential to worship. To know that we are not alone or cast aside for what can seem like our private failure brings healing & perspective. We can listen with intention, caring and love. And such listening can make all the difference. Rev. Tim Ashton (audio sermon, written)
January 18 - Pop Culture, Big Business & the End of White America/ Martin Luther King, Jr. Sunday - We are continuing from the Kwanzaa sermon -- I want to return to an idea from Leon Wynter's book American Skin Pop Culture, Bug Business and the End of White America. Much as we sometimes resent mass culture, it has been one of the agents of the transformation of America, communicating across class & racial lines. Rev. Tim Ashton (audio sermon, written)

January 11 - I'm Glad I'm Different! - Becoming a Unitarian Universalist isn't usually a 'conversion' experience. The experience of finding one's first UU church is more like 'coming home' or better, 'coming home to the home you always wanted.'. It is a great experience to reach the middle of one's life and say, "I'm glad I'm different; and now I know where I belong!" Rev. Tim Ashton (audio sermon, written version)

Golden Compass (audio sermon, written)



This site is maintained by church volunteers. For comments or inquiries, please email one amateur at webslave.


You can see UUCA activities listed in
our monthly events calendar.


Email: This e-mail address is being protected from spambots. You need JavaScript enabled to view it